I too am fond of the classics. M4 Sherman tank, specifically and M4A1. I've always been particular to the curves of the cast hull of the A1. Also prefer the older variants with the bolted transmission cover, as shown. That cover was replaced with a single piece, cast cover which was ballistically more sound, but I'm a sucker for bolts and flanges. The A1 also had the original rotary aircraft engine (the reason why our early tanks had such a tall profile) used on the M4 and M3 Lee (a smaller version was used on the M3 Stuart).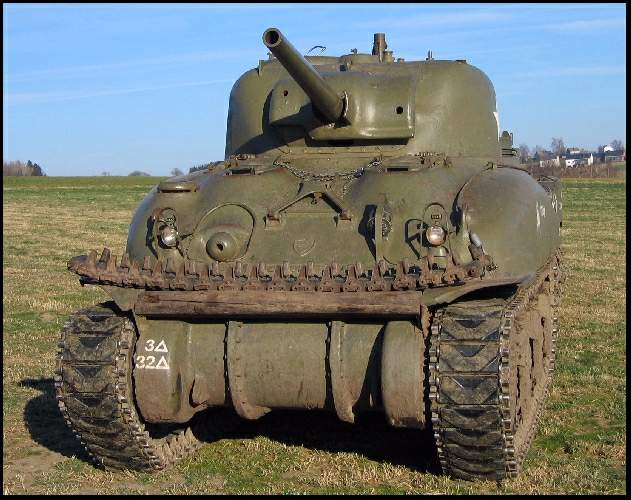 Last year, I had the opportunity to see the shop and collection of a local guy here, who happens to own a towing company around here. He had a huge garage beside the house, and inside he had three WWII vintage Willys Jeeps in various stages of restoration, up to complete and functional, a 2 1/2 ton, 1/ 1/2 ton and I think a 3/4 Dodge as well. I think he had a DUKW too, as well as a few other interesting vehicles. The real gem, though, was a fully restored M18 Hellcat TD. The main gun was fully functional. It was used during the WWII, and bounced around Eastern Europe in the years since the war ended. It was most recently used in combat in the Balkans, during the 90's. Was really neat to stand beside it and poke around.
He has a bunch of old military bolt actions in his office, along with some non-firing weapons (BAR, StG 44 and such), but, the true treasure lies within a locked vault. In there, he has his real collection. On the wall are Winchester '97s and later trench guns too. M21s, M16A1s, AKs of various types, 1903A4s with Unertl optics, a fully functional MG34 and dual Spandaus on an AA mount. He had shelves in there too with a bunch of surplus 1911s, plus several other neat things. Very cool collection which was a bit overwhelming to behold.
If only I had the money to have a collection like that....