Actor Alec Baldwin discharged a "prop firearm" that killed a cinematographer and injured the director of the movie Rust, being filmed on a set south of Santa Fe, a county sheriff's office spokesman said late Thursday.

Halyna Hutchins, 42 and the director of photography for the movie, died at University of New Mexico Hospital in Albuquerque. The film's director, Joel Souza, was hospitalized in Santa Fe, Santa Fe County Sheriff's Office spokesman Juan Ríos said.

A source close to the investigation said Baldwin, 63, was questioned by investigators late Thursday and was seen by a New Mexican reporter and photographer in tears.

Investigators are still trying to determine if the incident was an accident, Ríos said. No charges have been filed, and the investigation is open, Ríos wrote in a news release.

he prop was fired at Bonanza Creek Ranch, where filming was underway, the sheriff's office said in an early evening news release. Baldwin stars in the production.

Hutchins died from her injuries after she was flown to University of New Mexico Hospital, according to the sheriff's office. Souza was taken to Christus St. Vincent Regional Medical Center, where he is receiving emergency care, the sheriff's office said. Attempts to get comment from Baldwin were unsuccessful.

"We received the devastating news this evening, that one of our members, Halyna Hutchins, the Director of Photography on a production called 'Rust' in New Mexico died from injuries sustained on the set," John Lindley, the president of the International Cinematographers Guild Local 600, and Rebecca Rhine, the executive director, said in a statement, as reported by Variety. "The details are unclear at this moment, but we are working to learn more, and we support a full investigation into this tragic event. This is a terrible loss, and we mourn the passing of a member of our Guild's family."

Deputies were investigating how the accident occurred and "what type of projectile was discharged," the sheriff's office said in an earlier news release.

Rust Movie Productions did not immediately respond to requests for comment.

Filming for Rust was set to continue into early November, according to a news release from the New Mexico Film Office. It's described as the story of a 13-year-old boy left to fend for himself and his younger brother following the death of their parents in 1880s Kansas, with New Mexico doubling for Kansas.

Guns firing blanks have been blamed for deaths in past movie productions. Online Hollywood news site Deadline reported, "Actor Jon-Erik Hexum was killed Oct. 18, 1984, on the set of the TV series Cover Up when he accidentally shot himself in the head with a gun loaded with blanks. And in 1993, Brandon Lee, the son of martial arts legend Bruce Lee, died after he was shot in the head by a gun firing blanks on the set of The Crow. Both incidents were determined to have been accidents."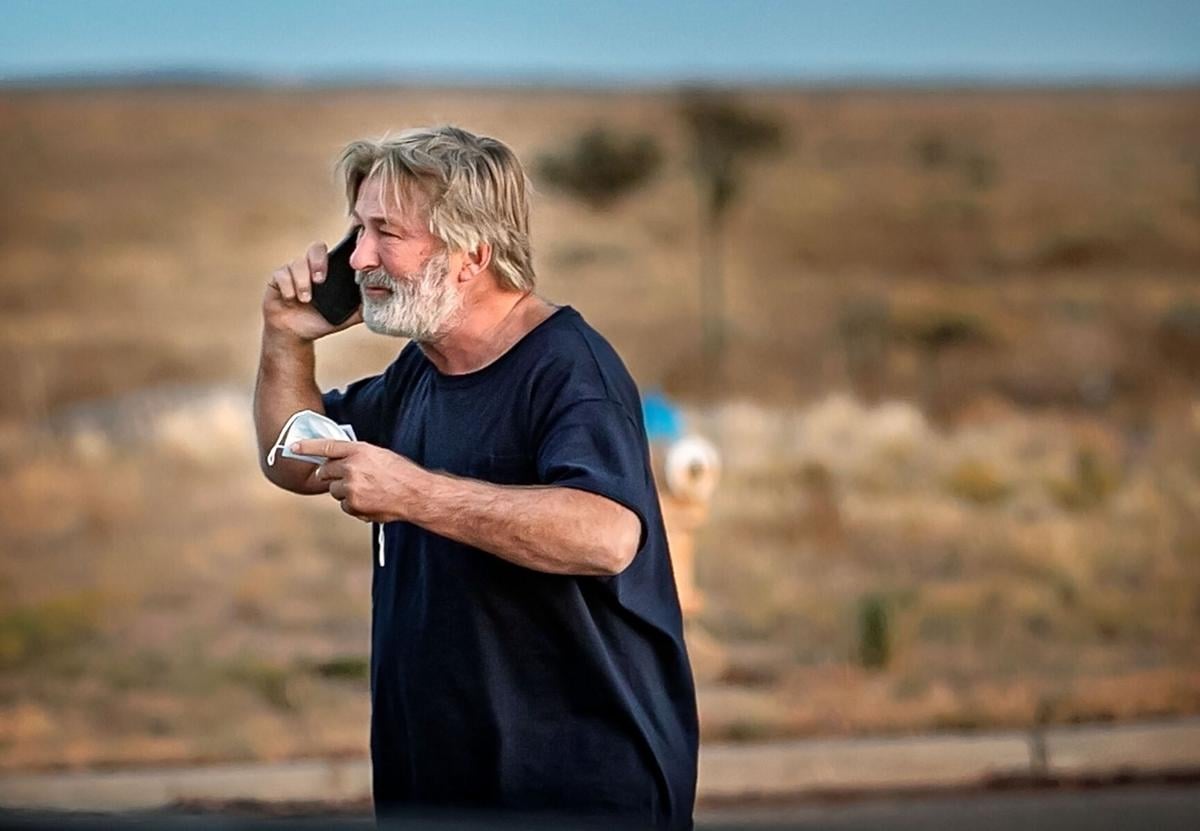 A distraught Alec Baldwin in the parking lot of the Santa Fe County Sheriff's Dept. after he was questioned.